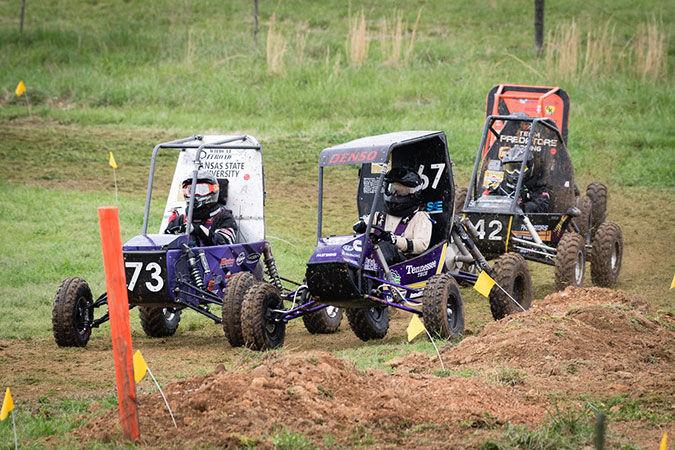 Students in Tennessee Tech's new vehicle engineering program won't just learn about autonomous electric vehicles. Thanks to a new grant from DENSO, the world's second largest mobility supplier, they will help develop a new, open-access autonomous vehicle platform.
This fall, Tech will launch a new vehicle engineering concentration that will be an interdisciplinary curriculum between two programs in the College of Engineering: Mechanical Engineering, and Electrical and Computer Engineering.
Assistant Professor of Mechanical Engineering and the principal investigator on the new DENSO grant Pingen Chen said, "The autonomous electric vehicle platform that will be developed as part of this project will help significantly enhance students' learning of state-of-the-art vehicle technologies."
The $45,000 grant, which is made possible by the company's philanthropic arm, DENSO North America Foundation, is one of 26 grants awarded by DENSO in 2019 to colleges and universities throughout North America. The donations are part of DENSO's broader efforts to cultivate tomorrow's workforce and prepare young thinkers to lead a new era of innovation. The foundation has supported STEM education through grants at colleges and universities since 2001, enabling students to access tools, technology and experiences that better prepare them for technical careers after graduation. DENSO education grant proposals are invite-only and evaluated based on technical merit, student experience, and alignment with industry needs.
Other College of Engineering faculty serving as co-principal investigators are Stephen Canfield, professor of mechanical engineering; Mohan Rao, professor and chair of mechanical engineering; and Vahid Motevalli, professor of mechanical engineering and associate dean for research and innovation in the College of Engineering.
Along with the autonomous electric vehicle platform, the grant will help support the college's competitive Baja SAE and Formula SAE teams.
The total estimated cost of the project is $100,000, with the College of Engineering providing the rest of the funding.
Senior Vice President of Engineering at DENSO and a DENSO North American Foundation board member Bill Foy said. "Investing in tomorrow's workforce is critical to ensuring we have individuals who are equipped to help DENSO fulfill its vision of creating software and products that enhance safety and reduce environmental impact. Through these grants, we hope to create a generation of innovators who inspire new value for the future of mobility."