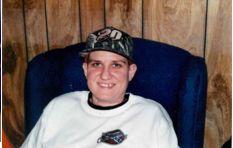 Graveside services for Ms. Marsha Lynn Reeder, 50, of McMinnville and formerly of Overton County, Tennessee were held at 11 a.m., Saturday, August 3, 2019 from the Philander Smith Cemetery with Bro. Randy Pickens officiating. 
Ms. Reeder passed from this life on Wednesday, July 31, in Murfreesboro. She was Christian in Faith and loved her family dearly. She enjoyed picnics, family get togethers, cats, and her Granny Smith.
Born April 20, 1969, in Overton County, she was the daughter of the late Joyce Smith Stephens. 
In addition to her mother, she was preceded in death by her brother, Kent Reeder; grandmother, Inogene Smith, and aunt, Judy Ledbetter Smith.
Survivors include her son, Aaron Armstrong of Sparta; 3 uncles, Joey Smith and wife Beth of the Independence Community, Jimmy Smith and wife Lisa of Rickman,  and Jesse Smith of the Independence Community; an aunt, Jewell Smith Turner of Livingston; a special cousin, Melissa Reagan and husband Jimmy of the Independence Community; and a host of cousins and friends.
Serving as pallbearers were Todd Smith, Brian Ledbetter, Kevin Smith, Lukas Reagan, Jimmy Reagan, and Randy Smith.
Special care provided by Speck Funeral Home.(C)