Hope and healing through Hyperbaric Oxygen Treatment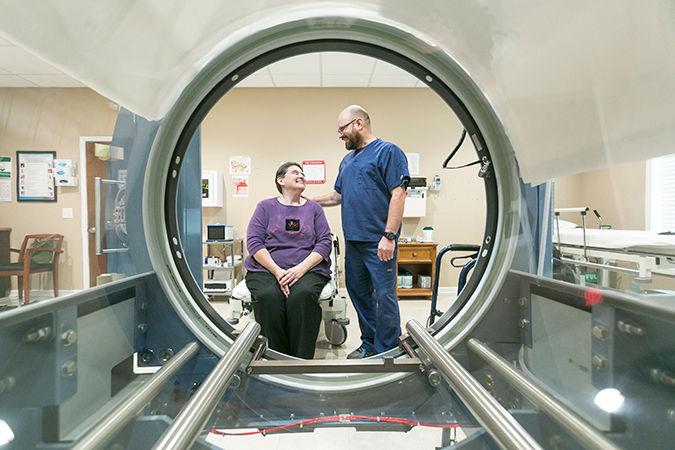 "I had such a sweet peace on me. I knew God had this and He would see me through."
Collette Dishman knew that God was taking care of her even when she came close to losing her life.
Collette was diagnosed with type 2 diabetes in 2010, that stemmed from an infection in her foot or pressure points caused by uneven pressure when walking. The infection resulted in the partial amputation of her left foot.
Then in 2017 Collette faced the battle for her life.
"The sores came up again, my sugar went up and I went to the hospital. My sugar got over 600. There's a lot I don't remember."
These sores had caused a blood infection that went to the bone causing her to almost lose her life.
She spent about 2 weeks in Livingston Regional Hospital, then was transferred to Overton County Health and Rehab Center where she spent 6 months. Amedisys home health took care of her when she was able to go home.
"All these facilities really took great care of me and I am forever grateful to all. They deserve a lot of credit - God first but He put these instruments here on earth to serve. Really good people. They became part of my extended family."
Although both facilities took great care of Collette there wasn't much progress with the infection healing. She was still very weak and sometimes felt like she would make good progress then end up 2 steps back. With the infection not healing she became at risk of losing all of her left foot and part of her leg.
Although the risk of amputation of her left foot and part of her leg was a hard thing to face, Collette said, "If our service men and women can live without arms legs, etc. then I can too. It is what it is."
Collette was fortunate to have a great support system around her which helped her through this tough time.
Collette said, "My husband, Ronald was a great support. Even though he was very concerned about me, he tried to remain positive throughout the whole thing. My church family and sister churches they are awesome and Ronald and I are so blessed to be part of our little church, Fredonia Community Church. At one point at the  hospital I woke up, I was in and out of it, and they were all circled around my bed.  All I could think of was, "My angels."  Also my family were so good to call, visit, check on me, and pray, and even complete strangers were praying for me and I consider them part of my extended family.
Still continuing treatment with no real progress, Collette said, "I know God intervened here."
Dr. Klepper, whom she had been seeing on a weekly basis for follow-up visits, suggested she try the Hyperbaric Oxygen Therapy at The Advanced Wound Care Center at Cookeville Regional since the infection wasn't healing with traditional treatment.
Hyperbaric Oxygen Therapy, or HBOT, treatment is an oxygen chamber that is pressurized with 100% oxygen.
Tissue needs oxygen to heal, and this treatment forces extra oxygen into the blood, helping to heal the type of wounds Collette was dealing with.
When patients are recommended for HBOT treatment it is because they have wounds that have failed to heal with traditional wound care treatments. For diabetics to qualify, the deeper tissue has to be affected, like with Collette's case where the infection had reached the bone.
Chris Howard, a certified hyperbaric technician at The Advanced Wound Care Center, said, "We're trying to save these patients from having to get amputations."
Collette was prescribed 60 daily HBOT treatments, and was a little apprehensive about the treatments but she said, "These precious individuals went out of their way to answer all my questions, graciously showed me the chamber, and really took good care of me.  Also Chris Howard, HBOT Director, was very patient and understanding with me and encouraged me by answering all my questions during the orientation period which was about two hours.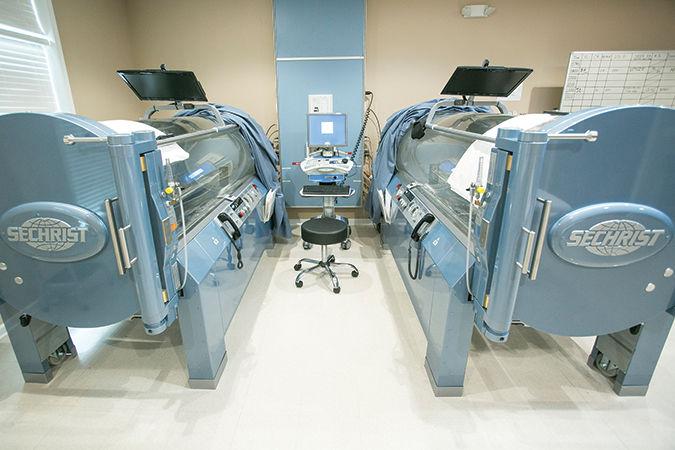 "After we got everything lined out and my treatments going, it wasn't bad at all. The worse part was keeping my ears popped the first three to five minutes in and the three to five minutes coming out.  It was a very comfortable treatment."
The Hyperbaric Oxygen treatments usually last 2 hours per visit. The chambers have a television in them patients can watch during their treatment, making it more comfortable during the 2 hours they are in the oxygen chamber.
Collette started her HBOT treatments in October, 2017 and finished in February, 2018, then received standard wound care until May of 2018 when her wounds were completely healed.
After almost losing her life, she said her life has changed.
"We must remember that every time we go through sickness or trials our life will change," she said, either for the worse or for the better. Its our choice.  I am a stronger person when trials come. I have a closer relationship and a closer walk with the Lord.  He always takes care of me and He  has never ever let me down. I completely humbled myself to His will and so many blessings came out of both times I was sick. 
"I am a more patient and a more contented person. I take time to appreciate all the blessings and gifts that are around me. To enjoy and savor life as it plays out.  You have to roll with what comes out and look for the blessing in each situation. There is always something to be thankful for. I don't rush around like I used to. I'm not running any races except for the Lord and that's the only one that counts."
Hyperbaric Therapy Include:
Diabetic ulcers of the lower extremities
Soft tissue radionecrosis and osteoradionecrosis
Chronic refractory osteomyelitis
Compromised skin grafts and flaps
The Advanced Wound Care Center 
In each of our lives the unexpected arises
It's overwhelming and seems more than we can bear.
Anxiety, stress, worries, uncertainties rises
Trust Him and wrap these in the blanket of prayer.
Not knowing what lies ahead
He said we would always be in His care.
Rest in His peace, love, and power
And cover yourself in the blanket of prayer.
When the body is sick and weak
And the weakness, time, and routine begins to wear
Seek His power, strength, and healing
With  the  Master's  blanket  of  prayer.
Encouraging and comforting each other as we can
We all have trials and troubles we share
In the spirit of one mind, one accord in unity
We're taken care of in the blanket of prayer.